Police officer who pulled gun on couple in outback guilty of assault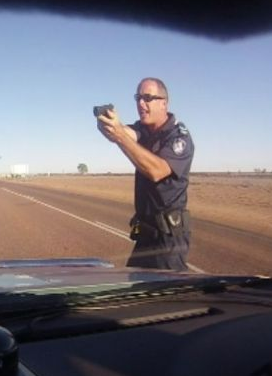 A police officer has been found guilty of assault and deprivation of liberty after pulling a gun on a couple for speeding along an outback Queensland highway.
A video recording that was tendered to court showed Senior Constable Stephen Flanagan swearing and honking as he tried to pull the couple over on the Landsborough Highway on the outskirts of Longreach in May last year.
As soon as the driver pulled off the road, the police officer — who has more than 25 years' experience — got out of his vehicle, pointing his gun and continuing to swear.
At a court hearing last month, Flanagan said he "feared for his life" after thinking the car was stolen and the driver was possibly armed.
In summarising, his lawyer Stephen Zillman said the video showed it was "clear he was very, very, highly stressed."
"It's not the case of some rogue lunatic police officer simply pulling pistols out, pulling them at someone who's been speeding," he said.
Read more at http://www.abc.net.au/news/2016-12-20/stephen-flanagan-guilty-over-pulli...