Cop to bystanders: 'Stop f-king filming and help me!'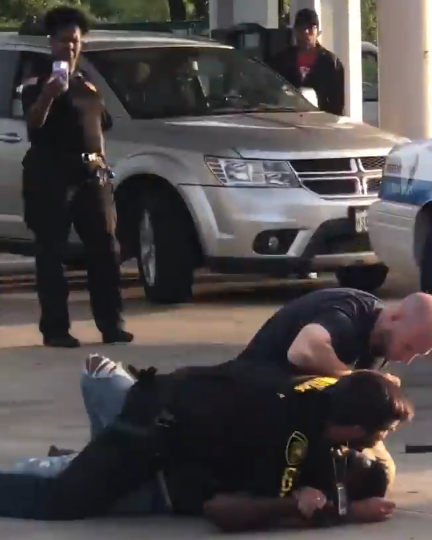 A Houston police officer who struggled to subdue a suspect Tuesday received no assistance from some onlookers, including a uniformed security guard, despite pleas for help.
Instead, the crowd continued to record the altercation on their phones while the officer tried to keep the suspect from grabbing his duty weapon, according to KPRC.
The incident occurred at a gas station after the officer stopped a vehicle in connection with a nearby shooting and aggravated robbery, according the report.
Cell phone footage of the altercation shows the suspect trying to fight off the officer and making multiple attempts to reach for the officer's gun.
The security guard did not respond to the officer's pleas for assistance, but instead stood back and took video of the scene.
"Help me!" the officer can be heard saying in the video. "Stop f-king filming and help me!"
The suspect was identified as Davon Shavelle Miller, 17, who was pursued and tackled by the officer after attempting to flee.
"Stop grabbing my cuffs! Let go of my f-king cuffs!" the officer yells at Miller in the video.
Footage shows a witness stepping forward to help the officer and taking the handcuffs from Miller's hand.
Houston Police Officer's Union President Joe Gamaldi told KPRC Miller was subdued and charged with felony disarming a police officer for attempting to take the officer's weapon.
The security guard who stood by has been fired, Gamaldi tweeted Wednesday.
Read more, and video, at https://www.policeone.com/Officer-Safety/articles/479539006-Cop-to-bysta...